Una conca marmorea sotto le stelle
[Il fuoco]

"A marble basin under the stars", this is how Gabriele d'Annunzio imagined his ideal theatre for staging his own plays, deep in the splendid setting of Il Vittoriale – following Wagner's example in Bayreuth. It was supposed to be called "Parlaggio".
"Il Vate" personally chose the location: a panoramic spot within the park, where one can admire Isola di Garda, Mount Baldo, the Sirmione peninsula and, above all, the striking Rocca di Manerba where it seems that Goethe recognized the profile of Dante Alighieri.
In 1931 the Poet entrusted the works to the architect of Il Vittoriale, namely Gian Carlo Maroni; construction began between 1934 and 1935 but was soon interrupted because of financial difficulties, aggravated by the onset of the war and the Poet's death. Works were resumed by will of the Foundation twenty years later, in 1952, and were completed the following year.
Solemn inauguration ceremonies were held on 8 August 1953, including a concert performed by the Orchestra del Teatro alla Scala conducted by Carlo Maria Giulini. In 2020, thanks to the invaluable contribution of the Regione Lombardia, the "Parlaggio" was tiled, as per d'Annunzio wishes, in Rosso Verona marble.
The Theatre has a seating capacity that can accommodate 1500 and is the venue of a prestigious summer Festival, which hosts on its premises some of the most important artists on the international music, dance and theatre scene.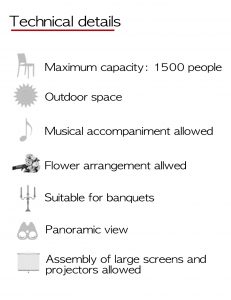 Click here to dowload the Technical Features
Click here to dowload Planimetry