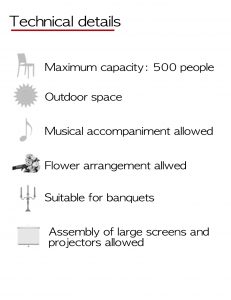 Il vento e l'acqua nel mio giardino alternano o contrappongono due melodie. Ogni nota delle foglie e delle gocciole mi tocca in tal parte di me dove non giunge la musica degli strumenti, ma 'con una volontà di musica'. Mi tocca dove vuol toccarmi: mi commove come vuole commovermi: con una esattezza e con una sapienza che m'è quasi insegnamento di composizione.
[Libro segreto]

A supreme tribute to beauty and to the magnificence of nature, the Priory gardens are none other than the continuation of that enduring and painstaking scenographic and artistic staging called Il Vittoriale.
After having been awarded the "Parco più Bello d'Italia" (Most Beautiful Park in Italy) prize in 2012, during the spring of 2013 (following decades of abandon and important restoration/containment works to remedy hydrogeological instability of the area) Pond of the Dances was reopened to the public. It is a small artificial water pond created by d'Annunzio and Maroni in the shape of a violin, as a tribute to Gasparo da Salò. The waters of the Acqua Pazza (Crazy Water) and Acqua Savia (Wise Water) streams flow into it, and it was conceived for the staging of music and dance performances. A place which Il Vittoriale, on the occasion of Gabriele d'Annunzio's 150th birthday celebrations, willed to return to its visitors: "I have that which I have donated".