Agreement between Università Cattolica del Sacro Cuore and Il Vittoriale
Together to develop our cultural heritage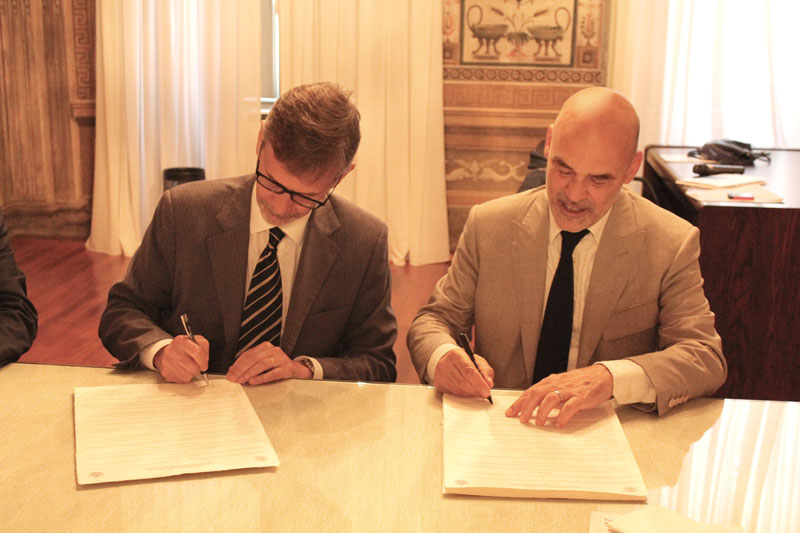 An important collaboration agreement between the two Brescia institutions has been signed, for promoting and providing incentives for research and the development of the cultural and museum legacy of Il Vittoriale degli Italiani.
From now on the Università Cattolica del Sacro Cuore and Il Vittoriale degli Italiani Foundation, through their official undersigning of a framework agreement, will be strengthening a relation of close collaboration aimed at the joint establishment of numerous activities.
These shared projects stand within the cultural and scientific, training and didactics spheres, paying particular attention towards studies and research concentrated on d'Annunzio.
There will be many themed areas relative to cultural activities that students will be involved in: from scientific research to the conception and management of a cultural event, from cultural and language mediation to new communication and promotion techniques.
Both institutions will be particularly committed to fostering mutual collaboration in the establishment of research that envisages long-standing objectives, through degree and doctorate dissertations in addition to training and educational activities such as internships and apprenticeships, practice exercises, activities and post-diploma/post-degree training courses, conferences, round tables and seminars, training/education paths and initiatives even of a non-formal nature.
A significant agreement, one that sanctions effective and concrete collaboration, thanks to which the university will be offering its students education in the field through one-on-one experiences in the sphere of cultural heritage and activities. On the other hand, Il Vittoriale degli Italiani Foundation will be benefitting from the important support of Università Cattolica, in its commitment for continuous development of the heritage and activities that it manages and promotes.
The beginning of this path for collaboration began a few years ago together with the faculty of Language Sciences; it had translated a selection of d'Annunzio's unpublished letters (that came from Martino Zanetti's legacy) into English, French and German; the English translation of the Foundation's Website is presently in progress.
Click here to download the English translation of unpublished letters. Traduzione a cura delle professoresse Gibson e Smith
Click here to download the German translation of the selection of unpublished letters. Traduzione a cura del professor Pfeiffer
Click here to download the French translation of the selection of unpublished letters. Traduzione a cura della professoressa Grata