On 19 September 2014 a terrible storm hit Gardone Rivera and Il Vittoriale degli Italiani – a complex of buildings, streets, squares, an outdoor theatre, gardens and streams that was built by Gabriele d'Annunzio between 1921 and 1938.
Ten of d'Annunzio's splendid cypress trees were felled. One-thousand numbered, unique sections have been obtained from them – namely "slices" of these trees that have been branded with Il Vittoriale logo and the wording: "Cipresso Dannunziano caduto della tempesta del 19 settembre 2014 e vivo nel ricordo degli amici del Vittoriale" (D'Annunzio cypress felled by the storm on 19 September 2014 and alive in the memory of the Friends of Il Vittoriale).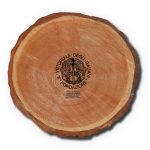 The precious cypress sections have been put on sale by Il Vittoriale degli Italiani Foundation at the price of €49.00.
This is an opportunity for collectors and for all d'Annunzio admirers, but not only; it is also a chance to support the work of the Foundation and the care provided to one of the most visited museums in Italy. Il Vittoriale, in fact, as of 1 January 2010 has become a private institution and therefore no longer receives state subsidies; it also employs 43 staff members and has inverted the trend witnessing a decrease of visitors that has been ongoing for decades. Over the past five years it has hired personnel and reported budget profits that are invested in maintenance, renovations and procurement of documents, increasing the tourism and economy of the Garda area – which confirms and proves that culture can truly represent our wealth.
TREAT YOURSELF TO A NUMBERED CYPRESS TREE SECTION FROM IL VITTORIALE NOW
Price: €49.00
[wp_cart_button name="Regalati un Cipresso" price="49.00″]